Back to BlueNews
Getting healthier with incentives and discounts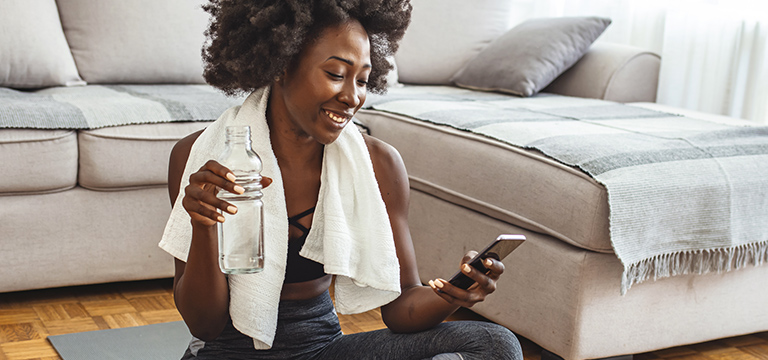 Being healthy has its perks. You feel better and enjoy a better quality of life. But did you know it also means you can get rewards, incentives and discounts, too?
Our discount programs
Everybody loves getting a good deal. And it's even better when it's a deal on something you love. Service Benefit Plan members have access to discount programs that can help them save big on health and wellness products:
Blue365

®

gives you access to handpicked deals on everything wellness. It's free to join for all Service Benefit Plan members. Fitness apparel, meal kit subscriptions and hotel rentals are just some of the things Blue365 helps you save on. Deals are always being added and there are no limits to how many you can redeem.
Fitness Your Way gives you discounted access to over 10,000 fitness locations across the country. There are no restrictions on which locations you can use. Plus, you can use the same amenities, programs and services available to those with regular memberships.
Our incentive programs
We want to help you take an active role in your health. Whether your goals are to manage a long-term condition, eat better or get more active, we have incentive programs that can help you start healthy habits. And keep them.
Vaccines are our best defense against the COVID-19 virus. Members who receive at least one dose of a COVID-19 vaccine and submit their record by December 31, 2021, can receive $50 on their MyBlue® Wellness Card through our COVID-19 Vaccination Incentive Program

.*
The Wellness Incentive Program rewards Standard and Basic Option contract holders and spouses for making progress on their health goals. Eligible members will earn $50 for completing their Blue Health Assessment (BHA) and an additional $120 when completing certain goals with our Online Health Coach (OHC).1 OHC goals range from eating well to managing hypertension to losing weight to reducing stress.
The Routine Annual Physical Incentive Program rewards FEP Blue Focus members just for getting their yearly checkup. You'll be able to choose a 4-month Fitness Your Way membership, a personalized nutrition plan from Molecular Fitness®, a two-week meal kit Sun Basket® subscription or a Fitbit® with a year subscription to Fitbit Premium.2
For Standard or Basic Option members who are expecting, the Pregnancy Care Incentive Program offers support and incentives throughout their pregnancy. You're eligible to earn $75 on your MyBlue Wellness Card once you visit your doctor for a prenatal checkup.3 You'll also be eligible to receive a Pregnancy Care Box that's filled with items that can help you during your pregnancy, like a book for you and your baby, clothing items and more.
For members dealing with high blood pressure, the Hypertension Management Program is here to help. Members can get a blood pressure monitor at no out-of-pocket cost. Knowing your numbers is the best way to track your progress and manage your condition.4
We're here to help you quit smoking for good. Members can get free tobacco cessation drugs, tools and resources to help them quit through our Tobacco Cessation Incentive Program.5
Visit our Incentives & Discounts page to learn more about our programs and what's available to you.
*You must be a Blue Cross and Blue Shield Service Benefit Plan member, 18 or older, with a MyBlue account to earn this reward. You're eligible if you receive at least one dose of an FDA-authorized vaccine between 2020 and December 31, 2021.
1You must be the contract holder or spouse, 18 or older, on a Standard or Basic Option plan to earn incentive rewards.
2Location restrictions apply. You must be 18 or older and the contract holder or spouse on an FEP Blue Focus plan to earn this reward. We encourage you to consider possible tax implications of your rewards as part of this program, and to consult your tax, legal or accounting advisors for additional information.
3You must be 18 or older on a Standard or Basic Option plan to earn this reward.
4You must be the contract holder or spouse, age 18 or older, to receive this benefit. 5You must meet age requirements for prescribed tobacco cessation drugs to receive this benefit.
Published on: November 11, 2021