Back to BlueNews
Workout Tips for When it's Too Hot Outside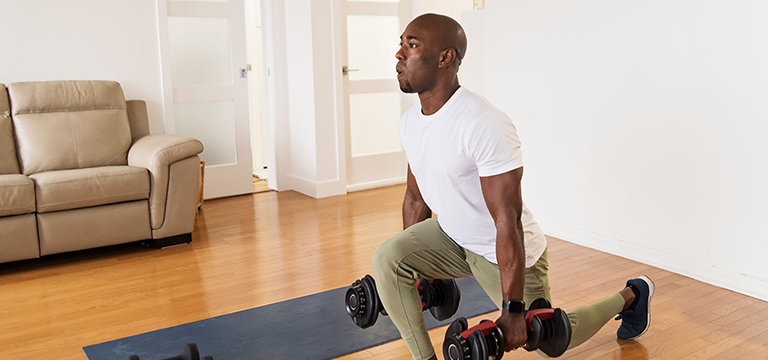 Millions spend the depths of winter dreaming of sunny summer days. But once they arrive, many realize it's a little too hot for comfort. Of course, your body has built-in air conditioning where evaporating sweat cools you down. But sometimes it's easier to let a building or home's AC system do the cooling work for you.
The summer heat makes getting your daily exercise tricky—especially when early mornings are too hot for a workout. But, as you know, getting moving is hugely beneficial to both your physical and mental well-being. Here are some ways to get your summer moves in without stepping outside.
1) Stroll the local mall. Vast space, cool air, malls are a walker's dream—and many open their doors an hour before the retail stores open theirs.
2) Skip the elevators when you can. If your day at the office takes you between floors, opt for the stairs each time you go up or down. This simple trick adds up fast.
3) Indoor gyms are great for escaping the heat. And, while many will be busy sweating in the sun, you'll be enjoying the solitude of a cool, indoor workout.
4) Turn chores into exercise. If your floors are ready for a deep clean, put on some music and give them a cleanse with a soundtrack.
Or try some of these simple, yet effective, exercises:
Shadow box: No sparring partner? No punching bag? No problem
Knee touches: Left. Right. Repeat!
Lunges are a great way to build leg strength
Squats: the undisputed champion of body-weight exercise
Curls: if you don't have dumbbells, you can fill bottles with water
Online Health Coach
The Online Health Coach is your personal portal to achieving your health goals. Plus, you can sync your Fitbit® to your MyBlue account, which makes tracking your progress easier than ever. Find all you need to know right here.
Sources:
https://www.verywellfit.com/best-ways-to-take-your-walking-indoors-3436836
https://medlineplus.gov/ency/patientinstructions/000890.htm
https://www.webmd.com/fitness-exercise/features/great-ways-to-work-out-indoors
Published on: June 09, 2022