Back to BlueNews
10 Ways to Move More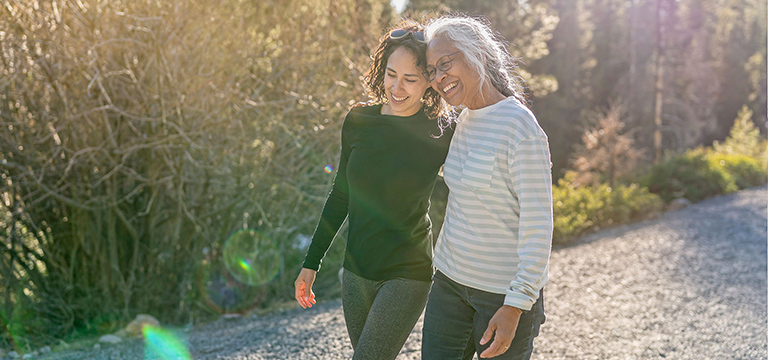 Sometimes the idea of exercise for the sake of exercise is too daunting. Busy work schedules and family commitments simply don't make going to the gym sound appealing. Thankfully, with some clever thinking and a little can-do attitude, you can exercise without sacrifice. How? Aim to move more.
Here are ten simple ways to get up and at 'em.
1) Block your schedule. Setting time aside to move is a great first step. If your day gets too hectic in the afternoon, try exercising first thing in the morning when nobody else is up.
2) Start simple. Go for walks, hikes or establish a basic stretching routine.
3) Learn a new skill. Look up exercise classes nearby, like swimming, dance or tennis.
4) Find exercise friends. Check your network of friends or coworkers to get some moves in together. Walking while talking goes a long way to help reduce stress.
5) Keep small exercise items, like dumbbells or resistance bands, close by in your home. That way you can squeeze in a quick workout at a moment's notice.
6) Playtime. Whether you have kids, pets or both, getting some playtime in is a great way to reduce stress and get valuable exercise.
7) Stimulate your creativity. Sometimes getting active means tricking yourself into movement. Stimulating activities like photography and birdwatching are great ways to get out there.
8) TV commercial breaks are perfect for movement. Each break, do a set of lunges, squats or crunches.
9) Have go-to moves for inside and outside. Rain or shine, you'll be craving your daily exercise.
Indoors: stationary cycling, yoga, lunges, squats
Outdoors: walking, hiking, basketball, soccer
10) Don't dread doing chores. Cleaning, scrubbing and rearranging make for excellent physical activity—and are shown to help reduce stress.
When you know where to look, the potential for movement is everywhere. Use these tips to help get the ball rolling and you'll soon realize that once you're moving, it's hard to stop. Momentum is everything.
When it comes to getting healthy, you have a helping hand. Use the Online Health Coach to set and manage attainable goals and get the support you need to complete them. This is help you can rely on.
Source:
https://www.heart.org/en/healthy-living/fitness/getting-active/how-to-move-more-anytime-anywhere
https://www.healthline.com/health/fitness/10-ways-to-move-more
Published on: May 05, 2022