Back to BlueNews
Spinach Asparagus Frittata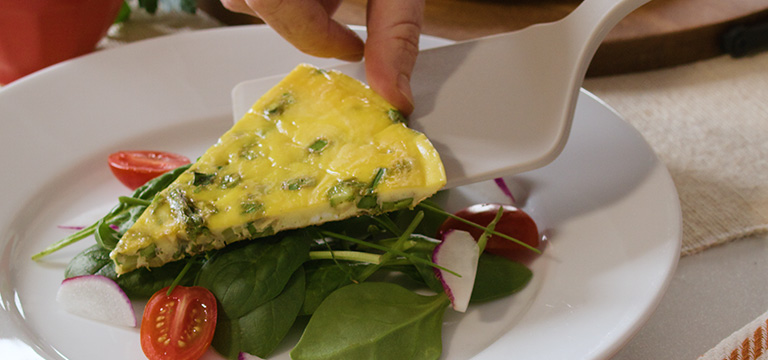 The healthiness of eggs has been the subject of a lot of debate over the years.
A part of that has been due to their high cholesterol. In fact, one egg contains 212 mg cholesterol, which is over half of the recommended daily intake. Cholesterol is a type of fat that's found in your blood. Too much cholesterol can cause your blood vessels to clog.
However, experts now say that eggs are extremely nutritious and considered a 'superfood.' Their high cholesterol content doesn't necessarily raise your body's cholesterol. According to one study, eggs don't raise cholesterol at all in 70% of those tested. Plus, eggs contain a lot of essential proteins, vitamins, and minerals.
If you're looking to add extra nutrition to your normal breakfast routine, look no further than a frittata. Similar to an omelet, it's got plenty of eggs and allows you to add whatever you like. This recipe includes spinach and asparagus, so you can start your day with a healthy dose of greens.
Spinach Asparagus Frittata
Cook time: 10 minutes
Ingredients:
2 green onions or ½ cup chives

6-8 asparagus spears, finely sliced

4 cups chopped spinach leaves

4-6 eggs

½-1 tsp. sea salt

6 grinds fresh black pepper

2 tsp. olive oil
Instructions:
1. Heat a nonstick, ovenproof frying pan over medium heat. Add olive oil, asparagus and green onion. Sauté 2 min.
2. Crack eggs into a bowl. Add salt and pepper. Whisk well.
3. Add spinach. Stir for 20 seconds, then turn heat down to low.
4. Pour whisked eggs into frying pan and let cook for 2 minutes. Turn on broiler.
5. Place frying pan under the broiler and cook for 2-3 minutes. Check after 2 minutes, eggs should be set and very lightly golden on top.
6. Serve with mixed greens.
Source:
https://www.botanicalkitchen.com/
https://www.healthline.com/nutrition/10-proven-health-benefits-of-eggs
Published on: April 21, 2022