Back to BlueNews
Roasting Veggies Made Easy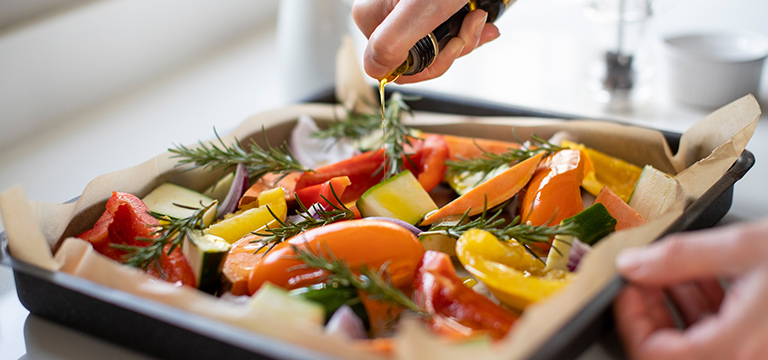 Packed with life-enriching vitamins, minerals, antioxidants and fiber, vegetables are endlessly beneficial to our health. But for some kids and adults, the lack of flavor makes eating veggies a chore.
That's why roasting is such a game changer. It brings out surprisingly deep and vibrant flavors that lay dormant when veggies are eaten raw, steamed or sauteed. Check out this veggie roasting guide and keep scrolling for a recommended seasonings and roast times chart.
Why vegetables?
Many of these vegetables are loaded with antioxidants, including vitamins C and E, which help prevent or slow cellular damage and reduce inflammation. The best part? These antioxidants may reduce your risk of several chronic diseases, while supporting your day-to-day wellness.
Asparagus is an excellent source of vitamin K, an essential nutrient involved in improving your circulation and bone health.
Broccoli is high in many nutrients, including fiber, vitamin C, vitamin K, iron and potassium. It also boasts more protein than most other vegetables.
Butternut squash is loaded with vitamins A and C. Vitamin A regulates cell growth, eye health, bone health and supports your immune system.
Carrots help relax blood vessels and reduce inflammation, which may help lower blood pressure.
High in fiber and loaded with antioxidants, a one cup serving of cauliflower is just 25 calories, making it a great food to aid in weight loss.
High in fiber, vitamins and minerals, sweet potatoes are one of the most nutrient-dense vegetables.
Tips for perfection:
To make for easy cleanup, line a baking sheet with aluminum foil.
Spread your veggies evenly in one layer on a baking sheet.
Stir with seasonings to achieve a perfectly even crisp to your roasted veggies.
Aim for crispy on the outside and tender on the inside.
Roast at 425°F.
| | | |
| --- | --- | --- |
| Vegetable | Preparation | Suggested seasonings |
| Asparagus | Trim woody bottoms off spears. | Garlic, lemon juice, red pepper flakes, Parmesan |
| Broccoli | Slice into florets. | Soy sauce, lemon juice, balsamic vinegar, ginger |
| Brussel sprouts | Slice in half. | Apple cider vinegar, garlic, thyme |
| Butternut squash | Peel, remove seeds, and cut into 1 1/2-inch chunks. | Cumin, coriander, thyme, rosemary |
| Carrots | Peel, halve lengthwise. | Dill, thyme. rosemary, parsley, garlic, walnuts |
| Cauliflower | Slice into florets. | Cumin, curry powder, parsley, Dijon mustard, Parmesan |
| Green beans | Trim ends. | Almonds, lemon juice, red pepper flakes, sage |
| Sweet potatoes | Peel and cut into 1-inch chunks. | Sage, honey, cinnamon, allspice |

Sources:
https://www.healthline.com/health/vegetable-roasting-guide#
https://www.healthline.com/nutrition/asparagus-benefits#TOC_TITLE_HDR_2
https://www.healthline.com/nutrition/foods/broccoli
https://www.healthline.com/nutrition/butternut-squash#benefits
https://www.healthline.com/nutrition/foods-high-blood-pressure#9.-Carrots
https://www.healthline.com/nutrition/benefits-of-cauliflower#TOC_TITLE_HDR_5
https://www.healthline.com/nutrition/butternut-squash#vitamins-and-minerals
https://www.healthline.com/nutrition/sweet-potato-benefits#TOC_TITLE_HDR_7
Published on: January 28, 2022