Back to BlueNews
Why Beets Are a Superfood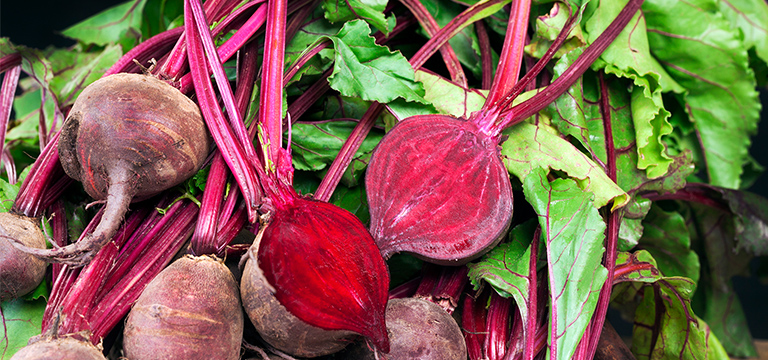 If you thought beets are the latest trendy vegetable, you'd be wrong—beets have been eaten throughout history. And there's a good reason we're still eating them today.
They feature a winning combination of being low in calories and rich in nutrients. The United States Department of Agriculture (USDA) reports a ½-cup serving of beets contains just:
35 calories
1 g protein
0 g fat
8 g carbs
1 g fiber
6 g sugar
0.4mg iron
250mg sodium
Beets contain manganese, folate, vitamin B2 and potassium, which help support healthy bone and muscle. They also get their deep red color from betaine, an antioxidant. Antioxidants are vital nutrients that prevent cell damage, which increases your risk of developing cancer, heart disease, dementia, type 2 diabetes and more.
The benefits don't stop there. One study found beets also have an anti-inflammatory effect that may reduce your risk for cognitive decline. Another study found that drinking beetroot juice may help boost your levels of hemoglobin, a type of cell responsible for transporting oxygen throughout the body. While the root is what's most commonly eaten, the stalks can be eaten, as well. Beet greens contain beta-carotene, which is an essential nutrient that's also found in carrots, spinach and broccoli.
When buying beets, try to buy ones that are tender and medium-sized. Avoid buying beets without the stalks—these are a good indicator of how fresh the beet is and help it last longer. Storing beets in the fridge can keep them from spoiling for longer, too.
If you're looking for ways to improve your eating, try getting virtual nutritional counseling. You'll connect with a registered dietician who can evaluate your needs and provide a personalized action plan.
Nutritional counseling is available in all 50 states and Washington, D.C. These are limited to individual sessions; we do not provide benefits for group counseling.
Source:
https://www.everydayhealth.com/diet-nutrition/diet/beets-nutrition-benefits-types-how-cook-more/
Published on: December 09, 2021