Back to BlueNews
Ways to cut down on healthcare costs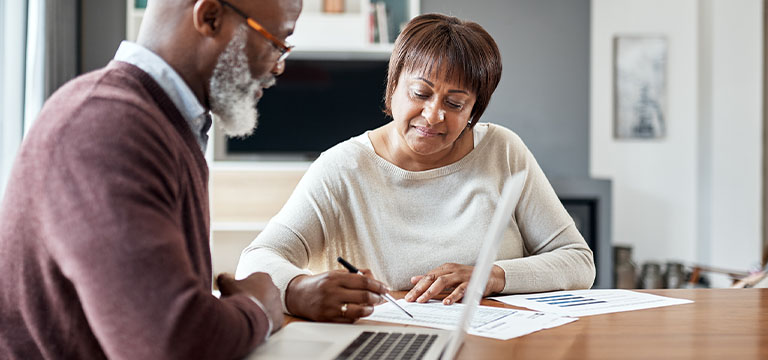 Your health isn't a single number or trait. It's a complex picture that has a lot of different sides. Physical, mental and environmental health are some examples of the many different aspects to your well-being. Your financial health is part of it, too.
Healthcare costs can be a big part of your budget. That's why Service Benefit Plan members have access to tools that can help them reduce their healthcare costs while getting the care they need. We'll share some common examples of ways you can save and how our tools can help.
You're not sure about what plan to enroll in.
Maybe you're a new federal employee or have had some life changes recently, like moving to a new ZIP Code or getting married. It can be daunting trying to find the right plan that fits your needs and budget. That's where the AskBlue℠ FEP Medical Plan Finder comes in. All you need to do is answer some simple questions and AskBlue can recommend a plan that's right for you.
You need non-emergency care.
Telehealth services are a low-cost way to get care from anywhere. Whether you need to connect with a medical doctor, mental health specialist, dermatologist or dietician, telehealth makes it fast and easy. Not only do you save time, but also you pay less than you would at the doctor's office. In an emergency, always call 911 or go to your local emergency services immediately.
You need to find a doctor or an estimate for a procedure.
It pays to stay in the FEP network. Going to an out-of-network provider or pharmacy can lead to higher out-of-pocket costs. The National Doctor and Hospital Finder can help you find a Preferred provider in your area. If you have a MyBlue® account, you can also view additional provider information, like how much a procedure might cost, when you're logged in.
You want to look up prescription costs.
Nothing is worse than getting surprised by the cost of your prescription at the pharmacy. The Prescription Drug Cost Tool can help. It lets you check if the drug is covered under your plan, what you should expect to pay at the pharmacy and compare prescription costs across all three of our plans.
You want all your healthcare finances in one place.
The Financial Dashboard gives you an easy-to-understand snapshot of all your healthcare finances. Having everything together in one place allows you to see where your healthcare spending is going.
You want help budgeting for the year.
Think of the FEP Healthcare Cost Advisor like a budget-planning sidekick. It helps you understand your current and past healthcare costs and out-of-pocket spending.* Plus, you can estimate potential future out-of-pocket costs based on expected life changes.
*You must have been enrolled in the Service Benefit Plan for at least one calendar year.
Published on: November 11, 2021