Back to BlueNews
Bug repellent, debugged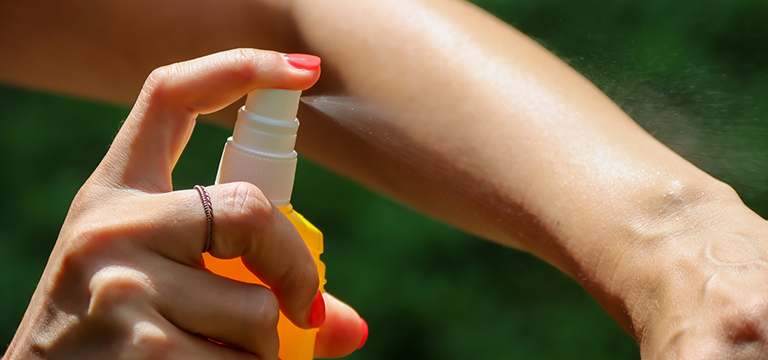 Summer is full of sunshine, backyard barbecues and evenings at the ballpark. But it also brings high temperatures and thick humidity. Millions can attest: muggy means buggy—and nothing ruins a good time like swatting at mosquitoes and flies.
Before opting for a repellent, there are a couple of natural ways to help keep the bugs at bay.
Try to avoid using strongly scented soaps, moisturizers or other topical treatments. These products seem to attract insects
If it's not too hot, aim to wear long sleeves and pants
Repel naturally
Lemon eucalyptus oil is a popular natural remedy. Eucalyptus oil is approved by the CDC as an effective way to repel insects. One study found that a 32% lemon eucalyptus oil provided more than 95 percent protection against mosquitoes for 3 hours.
Citronella candles are another option. When lit outdoors, these can provide up to 50% protection.
Chemical repellents
Repellents containing DEET (chemical name, N,N-diethyl-3-methyl benzamide) can protect you from mosquitoes, some flies and ticks for 1 to 12 hours, depending on concentration. The higher the percentage of DEET, up to 50%, the longer you are protected. Any figure above 50% does not offer additional protection.
It's important to note that DEET repellents are reviewed and approved for use in children by the EPA. However, kids shouldn't use repellent with any more than 30% DEET. To avoid overexposure to DEET, apply no more than once per day.
DEET repellent can be applied to your clothing or directly on your skin. Be sure to test on your clothing to ensure it won't be damaged. Once you're inside, be sure to wash your skin thoroughly with soap and water.
A worthy alternative
Picaridin is an EPA-approved repellent originally created to replicate piperine, from which black pepper is derived. It can be used on your skin or clothing. Picaridin is a popular alternative to DEET because it's nearly odorless and less likely to cause skin irritation.
Using 20% picaridin will get you 8 to 14 hours of protection. Or use 10% for protection that ranges from 5 to 12 hours. It can be applied to clothing or directly on your skin.
Telehealth is here for you
Have health questions? Your provider is just a few clicks away. Visit our Telehealth Services Page to see how you can discuss the effects of different insect bites with a doctor.
Source:
www.medlineplus.gov/ency/article/001969.htm
https://www.healthychildren.org/English/safety-prevention/at-play/Pages/Insect-Repellents.aspx
http://www.pubmed.ncbi.nlm.nih.gov/24772681/
http://www.healthline.com/health/parenting/insect-repellent-for-babies#safe-options
Published on: August 02, 2022