Back to BlueNews
Quick Ways to Save at the Grocery Store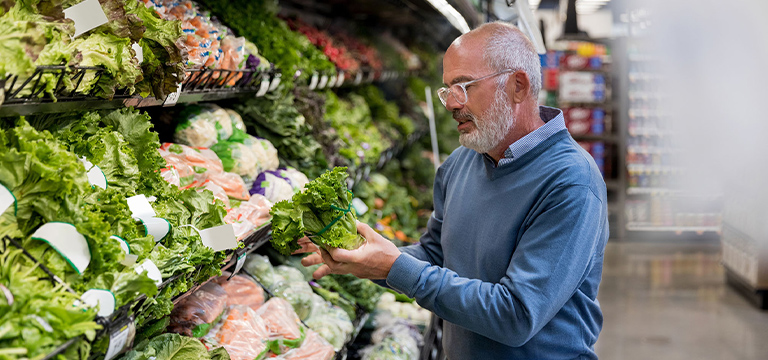 These days, everything is climbing in price—and food is no exception. But if you know where to look, there are still plenty of ways to save serious cash at the grocery store.
Become a member
Grocery stores want to keep you as a customer. Many national stores offer membership rewards and exclusive discounts, so be sure to sign up for email updates.
Most coupons are digital and available exclusively through store-specific apps
If you have a product you like, sign up for email updates directly with the company to score promotional discounts
Sign up for rewards memberships at multiple stores to give yourself opportunities to score maximum savings
Tune into in-season produce
Buying fruits and veggies outside of their season is a recipe for going over budget. Buying in season is your best bet for big savings. Choosing in-season fruits and veggies puts you on a healthy path. Plus, your menu of fresh options evolves with each season. There's always something healthy and delicious right around the corner.
Pro tip: farmers markets are another great option for finding quality produce for less
Freezing is your friend
Your freezer makes stocking up on cheap, in-season produce easy. But some fruits and veggies, like zucchini, cucumber or pineapple don't freeze well. Here are some examples of seasonal produce that keep well in the freezer.
Berries
Corn
Broccoli
Cauliflower
Peas
Carrots
Green beans
Squash
For more info on prepping your produce for the freezer, check out this handy how-to from the National Center for Home Food Preservation.
FEP Healthcare Cost Advisor Tool
Of course, making smart money moves goes beyond the grocery store. And having the right tools in your pocket makes it much easier. The FEP Healthcare Cost Advisor is just that. Figure out your upcoming healthcare budget, see your healthcare costs history and get potential out-of-pocket estimates for expected life changes and much more. You must have been enrolled in the Service Benefit Plan for at least one calendar year.
Source:
https://foodinsight.org/save-money-while-grocery-shopping/
Published on: June 09, 2022