Back to BlueNews
Roasted Sweet Potato and Black Bean Tacos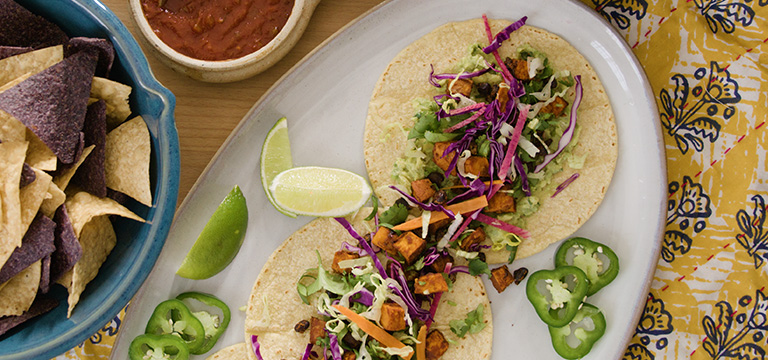 Cutting back on meat can be a good idea if you're looking to spend less at the grocery store, eat more vegetables, or both. But simply removing meat from your favorite dishes doesn't always work. It can affect the taste and your body needs protein for energy.
Thankfully, there are plenty of non-meat-based sources of protein you can use in your meals. Beans are a great pick: they're high in protein and fiber so you'll feel full after eating. Plus, they're extremely affordable and can be found at most grocery stores.
This hearty recipe gives the beans a flavor that's sweet, smoky, and a little bit spicy—all at the same time. Plus, the chopped spinach adds even more nutrition. You won't miss the meat in these tacos.
Roasted Sweet Potato and Black Bean Tacos
Cook time: 30 minutes
Marinade ingredients:
2 tbsp. soy sauce

1 tbsp. olive oil

1 tbsp. dijon mustard

1 tbsp. tomato paste

2 tsp. smoked paprika

2 tsp. ground cumin

2 garlic cloves, finely chopped

1 tsp. dried oregano

½ tsp. cayenne

20 grinds black pepper
Taco filling ingredients:
1 can black beans, drained and rinsed

4 cups sweet potato

1 cup cilantro, green onion and herbs

2 cups spinach, chopped
Instructions:
1. Preheat oven to 400°F. Line a sheet pan with parchment paper.
2. Mix marinade ingredients in a bowl. Add black beans.
3. Dice sweet potato into 1″ pieces. Mix into the marinade, stirring well.
4. Spread mix in an even single layer on the sheet pan. Roast in oven for 20 minutes.
5. Stir and roast for an additional 5-10 minutes until sweet potatoes and beans are soft.
6. Remove from oven. Stir in spinach.
7. Taste and adjust seasoning as needed. Garnish with cilantro and green onions.
8. Serve taco mixture in tortilla or lettuce leaves.
Published on: April 21, 2022