Back to BlueNews
Blueberry Banana Blender Pancakes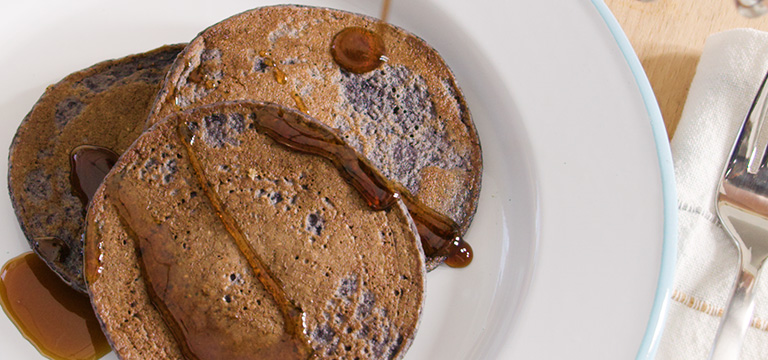 You wouldn't know how healthy these pancakes are by looking at them, but they're just as nutritious as they are enjoyable to eat. The secret? The batter is made from oats, which are great for your heart and digestive health. Plus, the blueberries give it a fun blue color and a lot of health benefits.
Studies show that blueberries may improve cognitive function in adults. Children may also benefit from their brain-boosting effects, resulting in higher test scores. Blueberries are also a fantastic source of antioxidants, which help prevent cell damage and inflammation. It's because of this that blueberries can reduce your risk of heart disease and may lower your risk of some cancers, too.
It might be hard to go back to buying pancake mix after trying this crowd-pleasing recipe.
Blueberry Banana Blender Pancakes
Cook time: 15 minutes
Pancake ingredients:
1 cup rolled oats

1 cup blueberries, frozen or fresh

1 banana

1 egg

½ cup water

¼ cup coconut chips, unsweetened

1 tsp. baking powder

2 tsp. vanilla

1 tbsp. neutral oil
Blueberry compote ingredients:
1 cup blueberries

¼ cup water
Instructions
1. Make compote. Add blueberries and water to saucepan.
2. SIMMER for about 5 mins uncovered until a thick sauce forms.
3. Make pancakes. Add pancake ingredients to a blender. Blend until a smooth batter forms. Add 2 tbsp. water to thin batter, if necessary.
4. Heat a frying pan over medium-low heat. Add 1 tsp. neutral oil.
5. Use spoon to drop 3-4 tbsp. batter in the frypan to form small pancakes.
6. Cook 2-3 minutes until the batter rises and bubbles a little.
7. Flip pancakes. Cook the other side another minute or so until it springs back when you gently press on it.
8. Repeat steps 5-7 until all the batter is cooked. Cover cooked pancakes and place in a warm oven.
9. Serve pancakes. Top with blueberry compote.
Source:
https://www.botanicalkitchen.com/
https://www.webmd.com/food-recipes/features/blueberries-nutritious-things-come-in-small-packages_
Published on: April 21, 2022