Back to BlueNews
Family Time Is Important For Good Health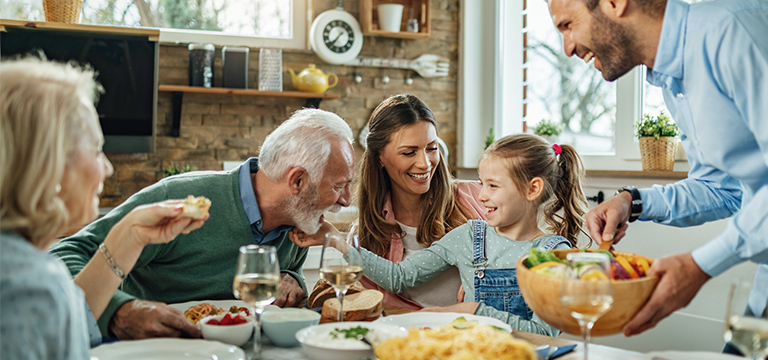 Maintaining healthy relationships ranks up there with healthy exercise and healthy eating. Not only is spending time with your family fun, it can also produce a multitude of short- and long-term emotional and physical health benefits. A study published in PLoS Medicine found that the protective effect of having fulfilling relationships is comparable to that of quitting smoking!
Strong social connections with your family also help to offset stressors in your life. A study published in PLOS One found that physical touch had a big effect. They found that receiving a hug relieved negative emotions like stress. So, as the summer winds down, how do you make the most of your time together? Here are a few options:
Try activities that tickle your brain, like playing chess, doing sudoku puzzles or playing other family board games.
Cooking together can help keep you physically healthy. Families who cook more often, as opposed to ordering take out, have an overall healthier diet. It's also an opportunity for kids to learn healthy habits early.
Don't underestimate children-led activities. If you're not sure how to play, let your children or grandchildren take the lead. They can teach you to play a new game or take you on an adventure.
Try group physical activities. Walking together, hiking together or tossing a ball around are great ways to strengthen your social bonds while getting some healthy exercise.
Remember, good relationships with your family do more than make life worth living. They can actually add years to your life.
As you start to prioritize family time, you may also consider getting started with the Online Health Coach. It can help you set and manage health goals, create a plan of care and track your progress.
Wherever you are in your journey, the fepblue app is available anytime. Track your rewards, access benefits, get care and more from wherever you are.
Source: https://www.webmd.com/balance/news/20100727/social-ties-can-add-years-your-life
Source: https://www.webmd.com/healthy-aging/guide/family-support
Source: https://www.webmd.com/balance/features/fun-play
Published on: August 06, 2021